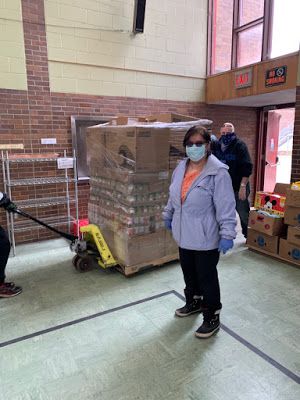 Goodwill Helps Us Get Food Orders
Marayam Kamagar, of Goodwill, has been working with us and our pantry friends for years. She has been key in getting the Goodwill truck help us and other programs during this pandemic. The truck arrives on Friday, May 1, with our four pallets of food from the Food Bank of Western Mass.
Transportation is always a major issue when you're dealing with food distribution. We are happy that one local organization is helping us and several other programs with this.
We'd like to thank Goodwill of the Berkshires and Southern Vermont. For the last few weeks and all the way through June, the Goodwill truck will be picking up our food order every week at the Food Bank of Western Massachusetts in Hatfield. Ordinarily, we rent a U-Haul truck every week and drive it to the Food Bank and back. So this saves us money and time. The size of their truck also allows us to get more food, without having to send a second truck to Hatfield.
 
On Friday, May 1, the truck brought in our order of 6,397 lbs. of food!
Through this arrangement, Goodwill is also helping several of our fellow programs. These include the Berkshire Food Project, Louison House, the Community Bible Church and the Williamstown Food Pantry.