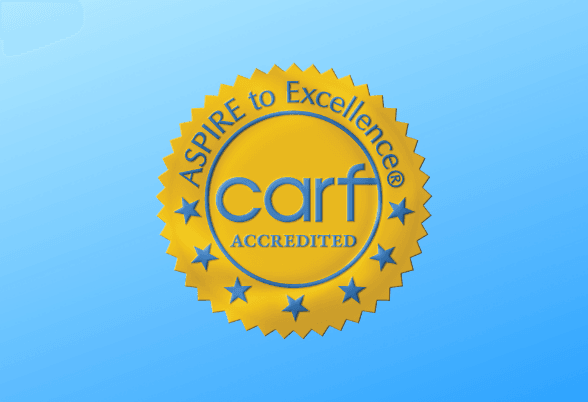 PITTSFIELD, Mass. (Sept. 28, 2021) — Goodwill Industries of the Berkshires and Southern Vermont announces that it has received a three-year accreditation from the Commission on Accreditation of Rehabilitation Facilities (CARF) for its supported employment services.  CARF accreditation has been the recognized benchmark of quality health and human services for more than 50 years.
In issuing the accreditation, CARF commended Goodwill's leadership team and their vast knowledge of the organization's retail stores, service provision, fiscal responsibility, and the CARF standards, including the high level of satisfaction expressed by those families and persons served by Goodwill and its ability to meet their needs and expectations.
Goodwill's achievement is based on the organization's dedication and commitment to improving the quality of the lives of the persons served. In achieving this high level of accreditation, Goodwill demonstrated substantial conformance to CARF's standards, including clearly written policies and procedures to guide its operations, services and best practices. The three-year accreditation is the longest accreditation period that is awarded by CARF.
"As the President/CEO of our community's Goodwill," said David Twiggs, "it is an honor to have received the gold standard certification from CARF. We are committed to providing the highest quality employment services to our supported employees. This accreditation is an insurance policy for the people we serve."
Goodwill Industries of the Berkshires and Southern Vermont has also recently been awarded the 2021 GuideStar Gold Seal for Transparency from Candid. GuideStar profiles give donors detailed information about nonprofit organizations, aiding them in their search for trusted organizations. A Gold Seal on a profile denotes a higher level of transparency, including comprehensive details about finances, Board of Directors, staff and overall demographics.Goodwill's GuideStar profile is available here:  https://www.guidestar.org/profile/04-2207791.
In addition to these noteworthy awards, Twiggs, who has been president and CEO of Goodwill Industries of the Berkshires and Southern Vermont since 2017, has been recognized by Goodwill Industries International, Inc. as a certified executive. The certificate was awarded to Twiggs based on his ongoing commitment to continuing education and leadership development in the organization he spearheads, maximizing Goodwill's mission to serve individuals and families and helping those served reach their full potential through educational skills training and the power of work.
About CARF
The Commission on Accreditation of Rehabilitation Facilities (CARF) is an independent, nonprofit accreditor of health and human services, enhancing the lives of persons served worldwide.
The accreditation process applies CARF's internationally recognized standards during a site survey conducted by peer surveyors. Accreditation, however, is an ongoing process that distinguishes a provider's service delivery and signals to the public that the provider is committed to continuous performance improvement, responsive to feedback, and accountable to the community and its other stakeholders.
CARF accreditation promotes providers' demonstration of value and Quality Across the Lifespan® of millions of persons served through application of rigorous organizational and program standards organized around the ASPIRE to Excellence® continuous quality improvement framework. 
About Goodwill of the Berkshires and Southern Vermont
Goodwill funds certificated job training programs and other community-based programs benefitting people facing employment challenges. Programs are funded through its recycling initiatives, including sales of donated clothing and household items at Goodwill retail stores.
Founded in 1956, Goodwill of the Berkshires and Southern Vermont is an innovative and sustainable social enterprise that helps all people in our communities enhance the dignity and the quality of life, gaining confidence, pride, independence, and self-sufficiency through employment training and other support services, in collaboration with local resources.
For more information, see www.goodwill-berkshires.org and www.facebook.com/GoodwillBerkshires