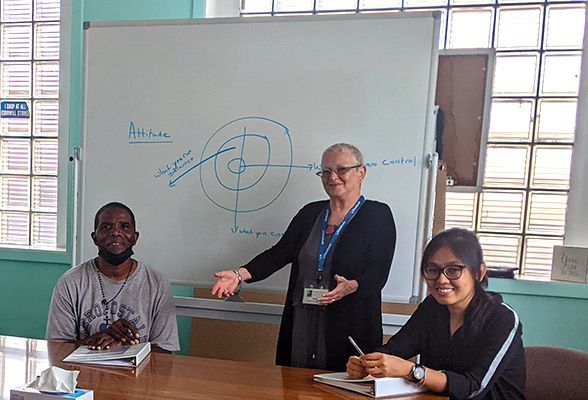 PITTSFIELD, Mass. (Nov. 15, 2021) — Goodwill Industries of the Berkshires and Southern Vermont announces that it is offering scholarships for its youth training programs in custodial, customer service and employability skills. Fifteen scholarships are available for young adults, ages 18 to 24, for one or more of Goodwill's 'Gateway to Employment' programs through June 2022. Funding support for these programs includes a $7,686 Community Development Block Grant from the City of Pittsfield. For more information, contact Kathy Anker, director of mission services, at kanker@goodwillberkshires.org or visit goodwill-berkshires.org.
"Our programs encompass the delicate work of providing a hand-up to vulnerable individuals in low-income families throughout our community," said Anker. "The people we serve often have multiple barriers to employment. One of our biggest challenges (and ultimate rewards) is in helping our clients find hope in their futures and providing them with the path to reach these new dreams. Education, training, support, and the acquisition of essential skills needed for self-sustainability in today's world go a long way, along with a little human kindness."
Goodwill's youth programs provide skills sessions that are important in the work environment:  motivation, dependability, having the capacity to manage stress, and the importance of communication skills. Real-time examples and exercises provide opportunities to develop these skills, as well as critical thinking skills and time management. "Goodwill's facilitators are adept at understanding individual learning skills and teaching to individual learning styles," said Anker.