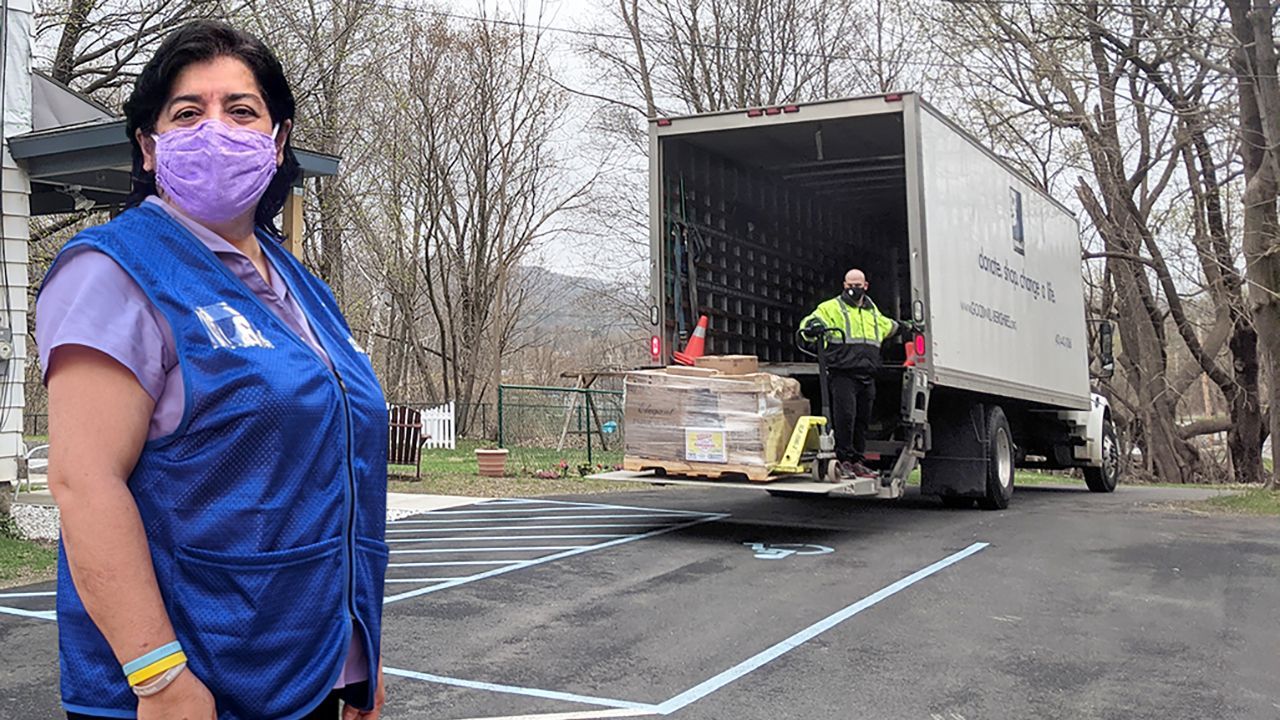 In a world in which so much has changed due to the COVID-19 pandemic the ability to pivot has been especially important. Like many non-profit organizations, Goodwill Industries of the Berkshires and Southern Vermont has pivoted in the past two years. By identifying a pressing need in our community and creating an innovative partnership with The Food Bank of Western Massachusetts and the food pantries, soup kitchens and homeless shelter in northern Berkshire County, Goodwill stepped up to help those with food insecurity in our region. 
Food insecurity, the state of being without reliable access to a sufficient quantity of affordable, nutritious food, has impacted more families and children than ever before. According to a recent report by Berkshire Health Systems, food insecurity in the Berkshires is not only prevalent but "at least one of every ten households likely went to bed hungry last night."  Of the 11.2 percent of Berkshire County's 127,000 food insecure residents nearly a third are children.
At the beginning of the pandemic, when Goodwill Industries of the Berkshires and Southern Vermont's stores and donation centers were closed, Goodwill repurposed its large box truck, traditionally used to deliver donated goods to each of its six stores, to instead pick up canned goods, fresh vegetables and fruit, dairy products, drinks, frozen meat, and meals at The Food Bank of Western Massachusetts in Hatfield and deliver them to five food pantries and soup kitchens in North Adams, Adams and Williamstown and the homeless shelter in Adams...a seven-hour trip every week.
Goodwill's Senior Director of Supply Chain Management and Territory Expansion, Maryam Kamangar, has been instrumental in coordinating this effort. "Our logistics team and drivers played an integral role in connecting food pantries and households with provisions. During a time when life is already difficult to navigate, worrying about your next meal is one stress we hope to alleviate for the most vulnerable members of our community," said Ms. Kamangar.
Prior to Goodwill's services, food pantry volunteers typically rented three U-Haul trucks with restricted capacity and no refrigeration. They were only able to transport a maximum of 5,500 pounds of food from The Food Bank of Western Massachusetts to the northern Berkshires; primarily canned foods and a limited quantity of fresh fruit and vegetables and frozen meat. As the demand for food for those in need grew exponentially during the pandemic, Goodwill was able to fill the gap by delivering an additional 3,500 pounds of food, including food requiring refrigeration--a total of 9,000 pounds of food each week.
According to Phyllis Babcock, director of the Williamstown Community Bible Church Food Pantry which has been in operation for more than 30 years, "We have been very fortunate to have Goodwill partner with us in bringing nutritious food to those in need in Berkshire County. We service anywhere from 100 to 140 households over three-hour periods at our Third Wednesday of the Month food distribution.
"Before the pandemic, our pantry only had the use of our church's passenger van to bring food from The Food Bank of Western Massachusetts to our church in Williamstown. We had to take all the seats out of the van, which could only carry 2,200 pounds. When the pandemic arrived in our area, Goodwill was able to find funding so that their truck could supply our pantry, free of charge, with a truck that brought us 5,000 to 9,000 pounds of food every month. We are now able to give nutritious food to families and many senior citizens, even some Afghan refugees, including bread, nuts, dried fruit, cereal, soups, numerous kinds of pasta, fresh fruits and vegetables, milk products like cheese, butter, milk and yogurt, and a wide variety of frozen meats such as ground beef, chicken, fish and pork," said Ms. Babcock.
To date, a total of 536,159 pounds of food have been delivered by Goodwill's drivers to 13,490 households and 33,363 individuals in the last two years, since Goodwill first began offering this service in April 2020. Thanks to grants from Berkshire United Way, Berkshire Taconic Community Foundation, Greylock Federal Credit Union and the Red Sox Foundation, Goodwill is able to continue to provide this important community service through 2022.