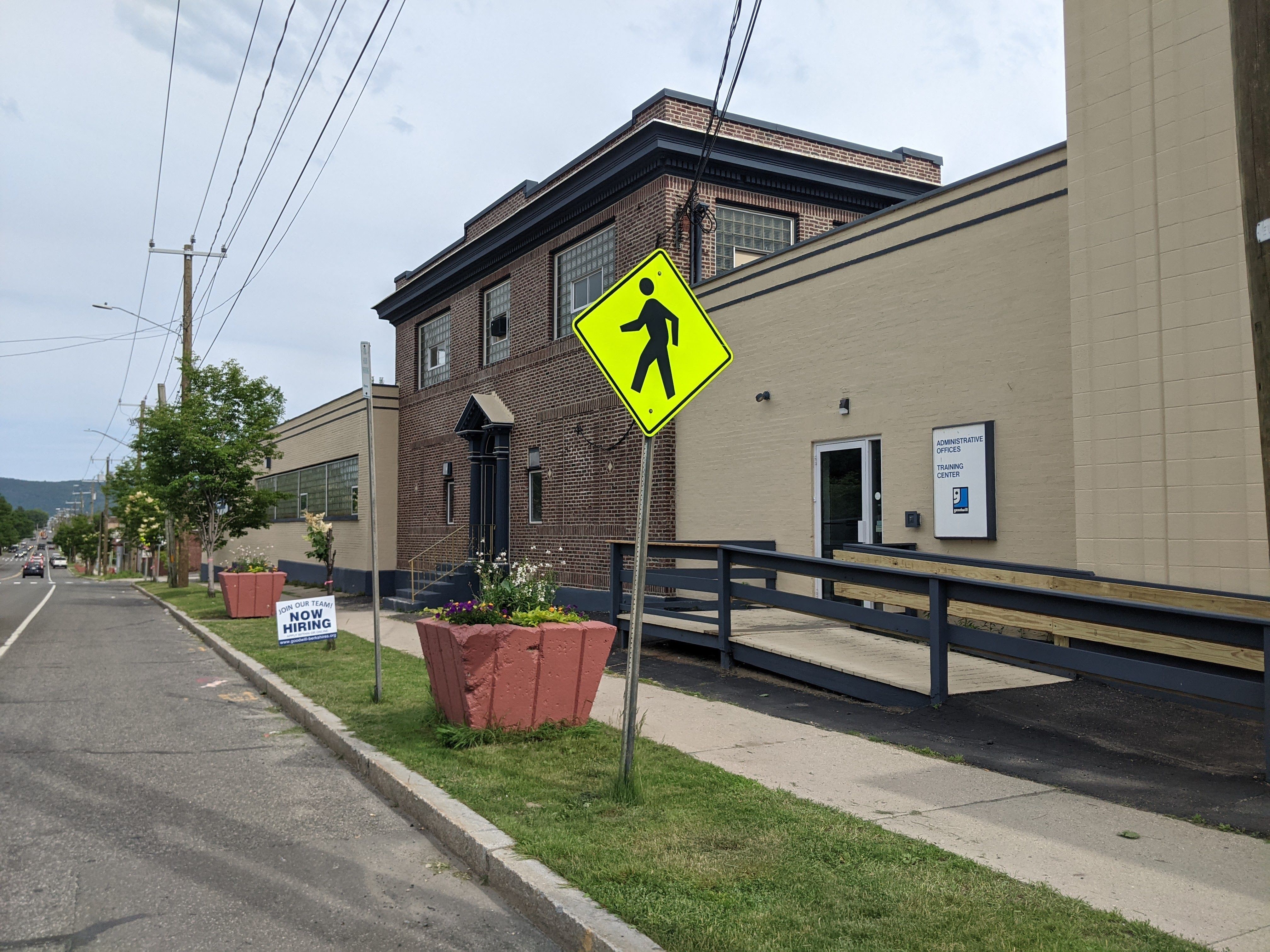 Goodwill Awarded Grant from Feigenbaum Foundation for Capital Improvements
PITTSFIELD, Mass. (June 17, 2022) — Goodwill Industries of the Berkshires and Southern Vermont announces that it has been awarded a $25,000 grant from the Feigenbaum Foundation that will be applied toward the cost of a much-needed roof replacement at Goodwill's headquarters, warehouse, and training center at 158 Tyler St.
"As everyone in the nonprofit world knows, it's often very hard to find funders interested in helping with infrastructure upgrades, no matter how critical the need, so we're especially grateful for this generous grant from the community-focused Feigenbaum Foundation in Pittsfield," said David Twiggs, Goodwill's president and CEO.
According to Twiggs, the roof is leaking in a number of places and has been an ongoing challenge that has significantly limited the amount of usable space in the building. "It has impacted warehouse operations and available space for our job skills training programs, which are essential components of our mission," he said.
The large building on Tyler Street houses Goodwill's administrative offices and its 25-member warehouse production team, who process donations to be sold in Goodwill's retail stores in the Berkshires. Members of the warehouse team also prepare cardboard, textiles that are not usable for sale, and electronics (as part of the nationwide Dell Reconnect Program) for recycling and reuse. The building contains classrooms and areas for Goodwill's workforce development programs and on-site job training programs in employability skills and custodial and customer service. 
This year the nonprofit organization was awarded $200,000 for infrastructure improvements by the City of Pittsfield through the federal American Rescue Plan Act (ARPA). The funds will be put towards the cost of the roof replacement, which is estimated to be $400,000.
https://www.berkshireeagle.com/news/community-news/pittsfield-goodwill-awarded-grant-from-feigenbaum-foundation/article_fcf9d4ca-ee73-11ec-921d-4b351adf2095.html?utm_medium=social&utm_source=email&utm_campaign=user-share
About Goodwill Industries of the Berkshires and Southern Vermont
Goodwill funds certificated job training programs and other community-based programs benefiting people facing employment challenges. Programs are funded through its recycling initiatives, including sales of donated clothing and household items at Goodwill retail stores, as well as local foundations and organizations. Goodwill also trains and employs individuals with developmental disabilities.
Founded in 1956, Goodwill of the Berkshires and Southern Vermont is an innovative and sustainable social enterprise that helps all people in our communities enhance the dignity and the quality of life, gaining confidence, pride, independence, and self-sufficiency through employment training and other support services, in collaboration with local resources.