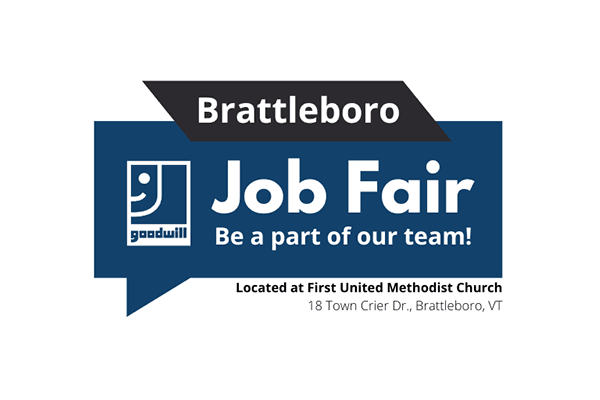 BRATTLEBORO, Vt., (Oct. 7, 2022) — Goodwill Industries of the Berkshires and Southern Vermont will host a job fair for four days this month, in advance of opening a new Goodwill store and donation center in Brattleboro in late November.
The job fair will be held at the First United Methodist Church, 18 Town Crier Rd., on Tuesday, Oct. 11, from noon to 6 p.m.; Wednesday, Oct. 12, from 10 a.m. to 4 p.m.; Monday, Oct. 17., from noon to 6 p.m.; and Tuesday, Oct. 18, from 10 a.m. to 4 p.m.
"We're looking for friendly, energetic staff to join our Goodwill family. Goodwill provides a great work environment with flexible schedules and training programs for all positions," said Cindy Brightly, vice president of operations.
Available positions include store managers and key holders, sales associates, donor greeters, and custodians. All levels of experience are invited to apply. For more information, call 802.257.3360 or visit www.goodwill-berkshires.org. To apply directly, go online to https://bit.ly/GW_Jobs
According to David Twiggs, president and CEO of Goodwill Industries of the Berkshires and Southern Vermont, Goodwill's new store and donation center will be located next to Staples in the Royal Square Shopping Center at 768 Putney Rd. (Route 5), in the storefront that formerly housed a Peebles department store. 
Brattleboro is the third city in southern Vermont that will be home to a store and donation center operated by the Berkshire County-based nonprofit. The other locations include Bennington and Rutland, and Pittsfield, North Adams, Great Barrington and Lee in Massachusetts.
"We are excited to be bringing Goodwill to Brattleboro, and to now have the opportunity to employ 75 people between our three locations in Vermont," said Twiggs. "The community has been extremely warm and welcoming to us, and we look forward to a big, grand opening celebration in late November. When you shop at Goodwill and donate items, you really can change the lives of neighbors in need."
About Goodwill Industries of the Berkshires and Southern Vermont
Goodwill provides scholarships for certificated job training programs and other community-based programs benefiting people facing employment challenges. Programs are funded through its recycling initiatives, including sales of donated clothing and household items at Goodwill retail stores, as well as local foundations and organizations. Goodwill also trains and employs individuals with developmental disabilities.
Founded in 1956, Goodwill of the Berkshires and Southern Vermont is an innovative and sustainable social enterprise that helps all people in our communities enhance the dignity and the quality of life, gaining confidence, pride, independence, and self-sufficiency through employment training and other support services, in collaboration with local resources.