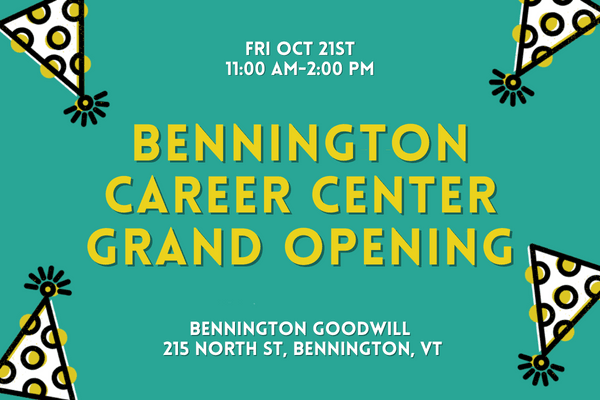 PITTSFIELD, Mass. (Oct. 18, 2022) — Goodwill Industries of the Berkshires and Southern Vermont will hold a ribbon-cutting celebration on Friday, Oct. 21, at 11 a.m. at its new Career Center in Bennington, Vt., located within Goodwill's retail store and donation center at 215 North St. The public is invited to attend the opening event, which includes an open house in the Career Center from 11 a.m. to 2 p.m.
According to Kathy Anker, vice president of mission services, the open house will be a chance for members of the community to meet the Goodwill team and people who have come to the nonprofit through its mission service programs. This includes those who have participated in Goodwill's employability skills training programs and through the Vermont-based Reach Up program for children and families.
"We're here to help people in our community get the skills they need for employment," said Anker. "We also provide employment opportunities and supervised job coaches for people with intellectual and developmental disabilities." 
The Career Center will be open on Wednesdays from 10 a.m. to 3 p.m. Staff will offer assistance with resume building, interview skills, preparation for job interviews, and soft skills training. Goodwill provides program participants with work attire for interviews and subsequent employment through its Suit Your Self program. 
More job training programs will be added to the Career Center's roster later this year, said Anker.
About Goodwill Industries of the Berkshires and Southern Vermont
Goodwill provides scholarships for certificated job training programs and other community-based programs benefiting people facing employment challenges. Programs are funded through its recycling initiatives, including sales of donated clothing and household items at Goodwill retail stores, as well as local foundations and organizations. Goodwill also trains and employs individuals with developmental disabilities.
Founded in 1956, Goodwill Industries of the Berkshires and Southern Vermont, Inc. is an innovative and sustainable social enterprise that helps all people in our communities enhance the dignity and the quality of life, gaining confidence, pride, independence, and self-sufficiency through employment training and other support services, in collaboration with local resources.