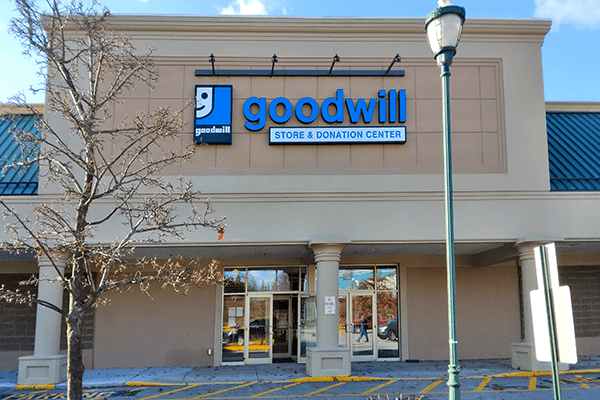 BRATTLEBORO, Vt., (Dec. 7, 2022) — Goodwill Industries of the Berkshires and Southern Vermont will hold a grand opening of its new store and donation center in Brattleboro on Saturday, Dec. 17, from 9 a.m. to 8 p.m. at The Royal Square Shopping Center, 768 Putney Rd. (Route 5), next to Staples. A ribbon-cutting celebration with opening remarks and special guests will be held at 11 a.m. Door prizes will be given out all day.
The store and donation center will be open Monday through Saturday from 9 a.m. to 8 p.m. and Sunday from 10 a.m. to 7 p.m. For more information, see goodwill-berkshires.org or call 802-257-3360.
The Goodwill store will offer customers a welcoming, department store type of experience. Shopper-friendly features include four cash registers, six fitting rooms, piped-in music, and easily accessible shopping throughout the sales floor.
Store merchandise has been specially selected by Goodwill employees through donations of top quality, gently-used and new items, including clothing, housewares, furniture, electrical items, and other unique, one-of-a-kind items.
The 23,000 square foot space, which previously housed a Peebles department store, features a spacious 10,000 square foot sales floor. The backroom, where donated merchandise is sorted, processed and priced, and the dock area, comprise the remaining 13,000 square feet at the location.
According to Senior Project Manager and Vice President of Territory Expansion Maryam Kamangar, "We are very excited to bring Goodwill Industries to the Brattleboro community. It took more than four years of searching to find this great location that has plenty of parking and ample sales floor and backroom production spaces. Another bonus is that the shopping center can be easily reached by public transportation."
Goodwill is an innovative and sustainable 501(c)3 nonprofit community enterprise that provides people with the opportunity to empower themselves through employment training and other support services.
The organization plans to open a mission services career center within the store in 2023, said Kamangar. The career center will provide job seekers with assistance with resumes, employability workshops, and job skills training programs.
Donations will be accepted beginning on December 17. Goodwill accepts gently used clothing, household goods, books, records, CDs, furniture, computer equipment, electronics, and monetary donations. For a complete list of items that are accepted for donation, visit www.goodwill-berkshires.org/donate.
Brattleboro is the third town in southern Vermont that will be home to a Goodwill store and donation center operated by the Berkshire County, Mass.-based nonprofit. Its other Vermont locations are in Bennington and Rutland, and in Pittsfield, North Adams, Great Barrington and Lee in Massachusetts.
About Goodwill Industries of the Berkshires and Southern Vermont
Goodwill provides scholarships for certificated job training programs and other community-based programs benefiting people facing employment challenges. Programs are funded through its recycling initiatives, including sales of donated clothing and household items at Goodwill retail stores, as well as local foundations and organizations. Goodwill also trains and employs individuals with developmental disabilities.
Founded in 1956, Goodwill Industries of the Berkshires and Southern Vermont is an innovative and sustainable nonprofit community enterprise that helps all people in our communities enhance their dignity and the quality of life, gaining confidence, pride, independence, and self-sufficiency through employment training and other support services, in collaboration with local resources.