Maryam Kamangar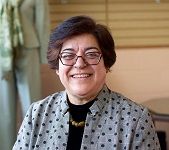 Maryam has more than 35 years of experience in the not-for-profit community, including 20 years as an adjunct professor in early childhood education, psychology, and special education. She joined Goodwill of the Berkshires and Southern Vermont as a volunteer in 2013, and was hired nine months later. As director of community development, she is responsible for expanding and improving Goodwill's community services and identifying community needs. 
Maryam provides leadership in project management; community and volunteer outreach; oversight of Goodwill's recycling initiatives and programs, such as Thrifty Rags and Dell Reconnect; and collaborates with a wide range of for profit and not-for-profit organizations in the region, including food pantries, soup kitchens, high schools and colleges. She works with participants in the Suit Your Self program, which provides assistance with resume preparation, employment applications, job interview training, and business attire for women and men entering or re-entering the workforce.
Maryam also serves as project manager for the planning, execution and tracking of new Goodwill store rollouts, attended donation centers, and special projects. She holds dual master's degrees in business administration and science in education from Nova Southeastern University in Florida.