Goodwill of the Berkshires and Southern Vermont is committed to the health and safety of our donors, shoppers, employees, and program participants. These are unprecedented times; a time of great uncertainty for all of us. We will continue to monitor the situation and seek guidance from local health departments and the CDC on an ongoing basis and update the community on any revisions to this timeline.
Goodwill Stores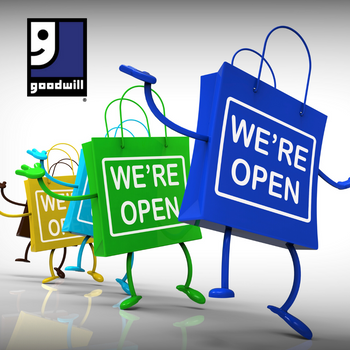 Our Vermont Stores are now reopening. They will be open for donations beginning Wednesday, May 20th and for shopping beginning on Friday, May 22nd. 
Hours of operations will be changed as follows:
Vermont Stores: 10 a.m. to 6 p.m.  Monday through Saturday and 11 a.m. to 5 p.m. Sunday
Massachusetts Stores:  Beginning on Monday June 1, 2020 donation centers in Great Barrington, Pittsfield and North Adams will accept donations.  Our retail operations will remain closed. Stay tuned for in-store shopping updates.
All Massachusetts stores will remain closed for shopping at this time. We remain focused on the safety of our teammates, shoppers, and donors as our top priority. Thank you for your patience. We will be sure to keep you updated here as well as on social media as soon as an open date has been determined.  
Store Reopening FAQ's
How will self-serve contactless donations work?
There will be labeled bins outside your usual store donation site. You will sort your donations into the correct bins.
Simply take your donation and place them in the appropriate bin.  Don't worry, a donation attendant will still be available for communication and to provide what we like to call "Social Distance Customer Service".  They will be able to assist as much as possible following state and CDC social distancing guidelines.
Receipts will be provided as a "grab 'n go" system.  Your donation attendant will be able to provide verbal assistance to where the receipts will be located.
What will happen to donations once they go inside the Goodwill location?
Goodwill of the Berkshires and Southern Vermont has sanitizing sprays we will deploy on all donated goods. In addition, all goods will be dated and quarantined for 3 days as a best practice to fight off any virus or bacteria.
How will stores be different when they reopen?
Health and safety is our number 1 priority.  This will be a different shopping experience than you're used to in  our Goodwill stores, for everyone's safety:
Each of our locations have an occupancy limit.  When the occupancy limit is reached, customers may enter the store once another shopper leaves.  The occupancy limit will be posted at each location.
Shopping carts are sanitized after each use, and monitored by our Goodwill greeter.
One way traffic will be encouraged in the store and marked by arrows for suggested paths throughout the store to promote social distancing.
Per CDC guidelines, flat surfaces are being cleaned and sanitized on an ongoing basis. This includes door handles, restrooms, pin pads etc
Plexiglas sneeze guards have been installed at all cash registers.
Specific personal protective equipment, including gloves, face masks, and face shields have been provided to employees.
Donated items are sanitized and quarantined for 3 days prior to processing.
Dressing rooms will be unavailable throughout the pandemic.
How will social distancing work in the stores?
To promote social distancing and help give everyone more space inside the store, we:
Will require face masks for all customers to enter the store
Will limit and control the number of customers and employees in our buildings, per the appropriate state social distancing guidelines.
Installed physical distancing floor markers for the checkout line to help customers keep appropriate social distance while they wait.
Placed one-way directional floor markers at the beginning of aisles to help shoppers navigate the store while maintaining social distancing.
Informational posters and documents have been posted throughout the store to encourage social distancing while shopping.
Return and refund policy during the pandemic
Return policy for Textiles and Electric will be extended for 7 days.
Due to the closure of dressing rooms, we are offering this as a user friendly gesture.
Items eligible for an exchange or refunds are available for 7 days after purchase with original tags and proof of purchase which must be presented as the time of exchange or refund.                                  
Shoes are not eligible for exchange or refund. 
How will you keep employees safe?
All employees will be trained in safety protocols and will follow best practices.
Employee temperatures are being checked daily with a no contact infrared thermometer at the beginning of every shift.
Mission Services Programming
Our Mission Services team is working diligently on creating digital offerings that provide the same quality, personalized experience our clients have come to expect when taking our courses in person.  The Employability Workshop and Custodial Training courses will be the first to be offered virtually and they will be available beginning in July. Once virtual classes have been scheduled, they will be listed on our Programs Calendar page and you will be able to sign up for them then.
As information continues to evolve about our virtual programming, we will include updates on this page, so please check back often. If you are interested in signing up for one of our virtual classes once they become available, please fill out the form below and a member of our Mission Services team will be in touch with you. 
We are currently offering one-on-one assistance with resume writing, interview coaching, finding job, and applying for jobs online via phone or video conferencing. If interested, please fill out the form below and we will be in touch soon.
If you are interested in reaching a member of Mission Services immediately, contact us at: 
We look forward to helping you achieve your career goals. Please submit your contact info and what program you are interested in below. We'll get back to you as soon as we can. Thank you.