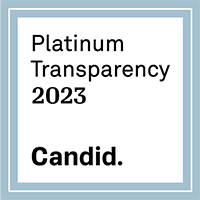 Goodwill Industries of the Berkshires and So. Vermont, Inc. is proud to have been awarded the 2023 GuideStar Platinum Seal for Transparency from Candid*!
Guidestar profiles give donors detailed information about an organization, aiding them in their search for trusted organizations. A Platinum seal on a profile denotes a higher level of transparency, including comprehensive details about finances, Board of Directors, staff and overall demographics.
Anyone can view Goodwill's financial details and learn about the people at our organization by clicking here:  https://www.guidestar.org/profile/04-2207791.
*Candid was formed in 2019, when GuideStar joined forces with the Foundation Center. The combined organization is committed to using research, collaboration and training to connect nonprofits, foundations, and individuals
---
Why Financial Contributions Are Important
Your financial contributions make it possible to serve people in our communities from youth to seniors. 
The mission of Goodwill Industries of the Berkshires and Southern Vermont is "to help community members with barriers to employment attain independence and self-sufficiency, gain confidence, and enhance their quality of life, through vocational education, work training, and other support services."
Do you know that your gift, however big or small, provides assistance in the form of scholarships or work appropriate attire to over 266 individuals in our territory?
And do you know your gift to Goodwill, as nonprofit organization, represents your support and endorsement for the services we provide?
Financial donators are part of the heartbeat of nonprofits and we rely on your commitment to doing good works in our community.
Here are some examples of what your donations do. The individuals pictured below received a scholarship to participate in our Gateway to Employment Programs and this is how they benefited. 
Here are some examples of what your donations do:
---
We invite you to make a difference.  Here's how-
Complete the form on this page and enter your credit or debit card information.
When you make a contribution, we record it and send you a donation receipt. All financial donations are used to support our employment training programs.
THANK YOU for joining the Goodwill family of supporters!
---