You might be wondering why should I donate to Goodwill? Does my donation really do anything to help others in my community?
The simple answer is yes, your donations absolutely do good in your community. Your donations create what we like to call a cycle of success. Your donations stock the shelves in our stores so people can shop in them and it prevents more stuff from going into landfills. The money made in the stores goes toward funding jobs throughout the organization and pays for the programs and services we provide to community members with barriers to employment. Lives and families are enriched and communities are empowered – one individual at a time. In fact, for every dollar spent in a store, 79 cents goes back into our community. In 2022, this helped to serve 364 individuals in one way or another.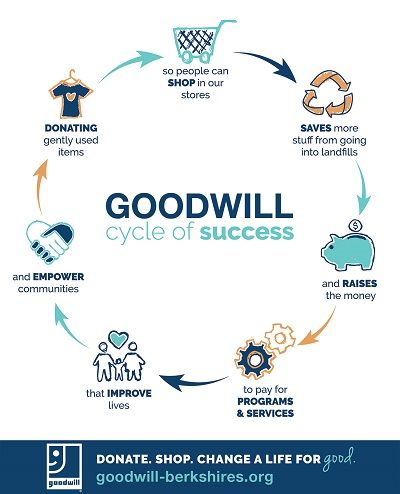 Because of your donations, Goodwill is able to help individuals like Hector, who came to our organization jobless and in need of support seven years ago. We took him under our wings, provided him with employment, stability, training, and advocacy for six years until he was ready to spread his own wings and fly away. Today, he maintains full-time employment and is able to support his family of four. 
Because of your donations, people who struggle to make ends meet can purchase gently used items at affordable prices in our stores. 
Because of your donations, we are able to recycle millions of pounds that would otherwise go into landfills. Donations that are in useable but not sellable condition are sent to many third world countries providing families there with clothing, shoes, hats, blankets, pots and pans, and more. 
Because of your donations, we are able to help provide clothing and household items free of charge to fire victims, survivors of domestic violence, those who are transitioning from homelessness, those who are working toward addiction recovery, those who are transitioning from incarceration, and others who have simply fallen on hard times. 
Because of your donations, we are able to fund our many training programs including our nationally recognized retail and custodial training programs and our employability workshops. 
Because of your donations, we are able to staff and supply our Career Centers, where people can come to find help with building resumes, fine tuning interviewing skills, applying for jobs online, and to receive interview appropriate clothing through our Suit Your Self program. 
Your donations make a difference one person at a time. Introducing our supported employees and their supervisors.
---