As an organization, we make every effort possible to engage in a circular economic cycle. What does this mean? It means that we work with as many companies as possible to recycle and reuse as many items as possible that we aren't able to sell in our stores. In fact, we recycled upward of 2,000,000 pounds of goods from 2021 to 2022, including cardboard, scrap metal, shoes, purses, baseball caps, books, and so much more, keeping these items out of landfills. Approximately 85% of the items that are not sold in our stores are recycled in one way or another. Here's some additional information about our primary recycling efforts:
Dell Reconnect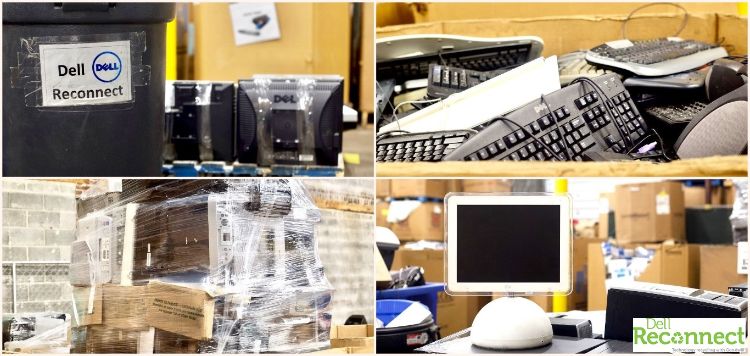 In 2004, Dell joined together with Goodwill Industries to create the Dell Reconnect program. Consumers can drop off their used computer equipment at one of the 2,000+ participating Goodwill locations, in 44 states in the USA, to be responsibly recycled for free. The trained staff throughout Dell's 87 Goodwill partners sort and process the equipment that is picked up and recycled by Dell. The Dell Reconnect program not only helps create jobs in the community for people with disabilities and disadvantages, but it also helps foster the circular economy: plastics and gold collected will be recycled into new computer parts through Dell's closed-loop recycling process.
In addition, Dell Reconnect accepts any brand of computer equipment, in any condition. Some items may require extra preparation before drop off, therefore we ask consumers to make sure to remove any personal data from hard drives or other storage media before bringing their equipment to Goodwill. Any revenue from the recycled computer equipment goes back into the Dell Reconnect program to support Goodwill's employment placement and job training services both in the community and at local Goodwill organizations.
Plastics from used computers collected through Dell Reconnect are turned into new plastic parts through Dell's closed-loop plastics supply chain. By keeping the plastics within this closed-loop process, Dell helps put them back to work, fueling the circular economy for IT.
Donating one working computer through Dell Reconnect equates to 6.8 hours of job training for a Goodwill program participant. Dell Reconnect has created green jobs, education, and skills training for people who need them at Goodwill.
With the help of programs like Dell Reconnect, Dell has recycled more than 1.9 billion pounds of unwanted equipment globally since 2004. In 2022, 24,379 pounds of electronics were recycled from Pittsfield landfills.
---
Thrifty Rags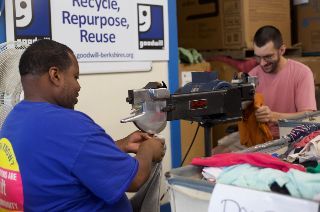 Thinking of throwing away those old T-shirts or worn towels? Donate them to us instead! Our Thrifty Rags business repurposes donated textiles such as T-shirts and towels that have stains, holes or are otherwise in less than sellable quality into a marketable commodity as industrial cleaning rags. We make cleaning wipes from washed T-shirts and towels in any condition. They are absorbent, durable, washable, and reusable, and made from recycled textiles. Thrifty Rags are ideal for auto mechanics/detailing; manufacturing; construction/contractors; and painting/refinishing, as well as for commercial/residential uses. Goodwill Industries of the Berkshires and Southern Vermont sold nearly 14,645 lbs pounds of rags to various businesses in 2021-2022.
The donations of old T-shirts and towels are received, processed, and cut into 5 and 20 lb. bags for purchase at a very competitive rate by local businesses and at our six Goodwill stores. The Thrifty Rags business provides jobs and job training to people in the community. Donations of T-shirts and towels gives us an opportunity to employ up to four employees who cut rags five days per week.
The job training participants in this program gain experience and learn skills in textile recycling processes, workplace safety, inventory management, customer service, bookkeeping, sales, and distribution. They gain operational skills and "real work" experience while earning a competitive wage to create greater economic stability in their lives.
---
Baling Textiles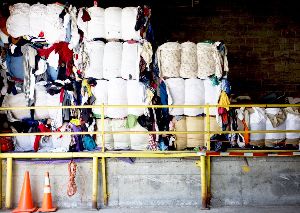 Some of the clothing, towels, and linens that are donated to us are in useable condition, but are not of sellable quality. These items are condensed into large bales of textiles and shipped out all over the world. People in many different countries around the globe are in need of these items and many are unable to afford new clothing. Baled textiles provide an alternative for these families. They are sent overseas and provided to people in need in third world countries including several nations in Africa, Pakistan, the Dominican Republic, and more. In fact, Goodwill Industries of the Berkshires and Southern Vermont provided 450,401 pounds of bale to other countries in 2022. In addition, a chain of distribution is created, providing many people with jobs along the way.
---
Cardboard Recycling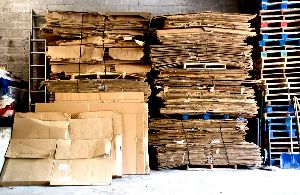 Not only do we recycle our own cardboard that we are no longer able to use, we also accept your old cardboard as well! We'll compact it and send to a recycling plant that will repurpose it. In 2021-2022, we recycled 180,130 pounds of cardboard!
---
Various Other Recycling Efforts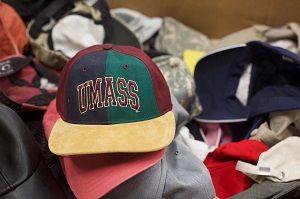 The logistics team at our warehouse is always exploring new avenues for recycling because every pound we recycle is one less pound put into a landfill! In addition to our primary recycling efforts, we partner with various outside agencies to recycle scrap metal, kitchen metal, shoes, purses, baseball caps, cell phones, and books (through our partnership with Thrifty Books.) Many shoes, purses, baseball caps, and kitchen metals are sent to third world countries to be used by people in need. Of course, if donated items are of sellable quality, they are distributed to our stores rather than recycled. 
---
Some of the Unique Ways Your Donations Are Being Repurposed…
• Rubber soles of old shoes can be ground up and turned into artificial athletic surfaces that can then be used at playgrounds, school tracks, and more.
• Old jeans are recycled to make money, paper, and greeting cards.
• Clothes that are no longer wearable are sent off to be recycled and remade into items such as purses, sneakers, and more.
• One woman we partner with buys various items such as shoes, backpacks, kitchen metal, and dishes that she then brings with her into villages in the Congo and distributes them.
• Old cell phones go to police stations and are refurbished. They are then sent to battered women's shelters so survivors have a safe way of calling 911.
• Unsellable books are distributed worldwide to those who can't afford them.