Obtain a nationally recognized certification in custodial work
SIGN UP NOW FOR OUR CUSTODIAL WORKSHOP
The class will be held in person and virtually so the choice is up to the participant.
Goodwill of the Berkshires and Southern Vermont, Inc. offers a nationally recognized custodial training program. Participants who successfully complete the training with an 80% grade or higher are awarded a two-year certificate from the OSHA-compliant Cleaning Management Institute. We strongly recommend that participants take our Employability Workshop in conjunction with the custodial training to learn "soft skills" (communication, time management, problem solving, etc.) needed to succeed on the job. Graduates are invited to take certification training in CPR/First Aid/Automatic External Defibrillator and Bloodborne Pathogens to build their skill set. We also provide job-seeking assistance at our two Career Centers to assist with job searching needs.
This is a three-week program that meets three hours each day, three days a week. See the Program Calendar for the next program.
The program covers the six major components of a custodial position, including:
Customer Service: An essential skill for a custodian, as well as on a personal level.
The Chemistry of Cleaning: Learn the proper way to mix and use chemicals safely and understand the differences between sanitizing, disinfecting, and sterilizing items and surfaces.
Basic Above Floor Cleaning: Learn the proper way to clean anything above floor in a safe and efficient manner.
Basic Hard Floor Care: Learn the best cleaning procedures to clean tile and the different types of wood floors without causing damage to them.
Basic Cleaning of Carpeted Surfaces: Learn the best cleaning techniques to clean carpets, stain removal and shampooing methods.
Basic Cleaning of Restrooms: Dirty restrooms containing bacteria and viruses are a leading cause of lost work time and lost productivity. Learn the best practices to prevent cross contamination of pathogens from restrooms to keep you and your community healthy.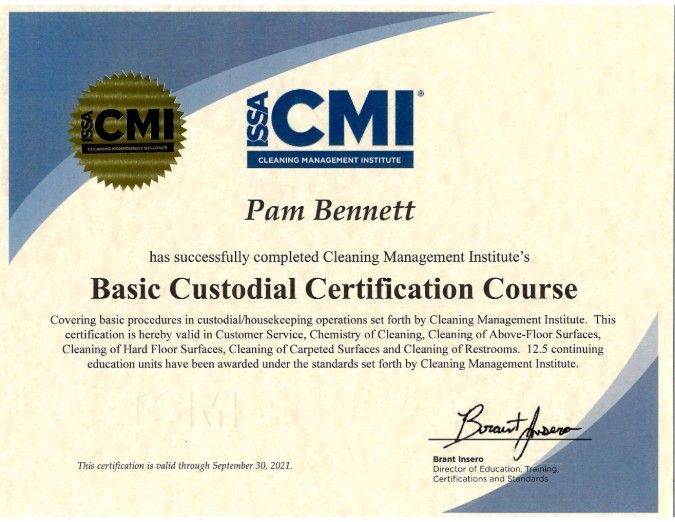 What is the importance of certification for the job applicant?
Certification is required in almost every industry for a reason: It helps you to advance in the profession you have chosen.
Certification can help prove your value as a potential employee, and motivate employers to utilize your skills and knowledge
If you already have a position and you continue your education with certification programs, it gives you better chances of advancement in the company which could lead to better pay
It could give you the competitive edge you need when applying for a job
How does certificate training benefit the employer?
Taking classes that offer certifications gives employees a higher level of knowledge and training, which translates into:
Fewer job related injuries
Reduced absenteeism
More productive employees
Less asset damage
Lower turnover rate
We look forward to helping you achieve your career goals. Please submit your contact info and what program you are interested in below. We'll get back to you as soon as we can. Thank you.
---