Charles's Story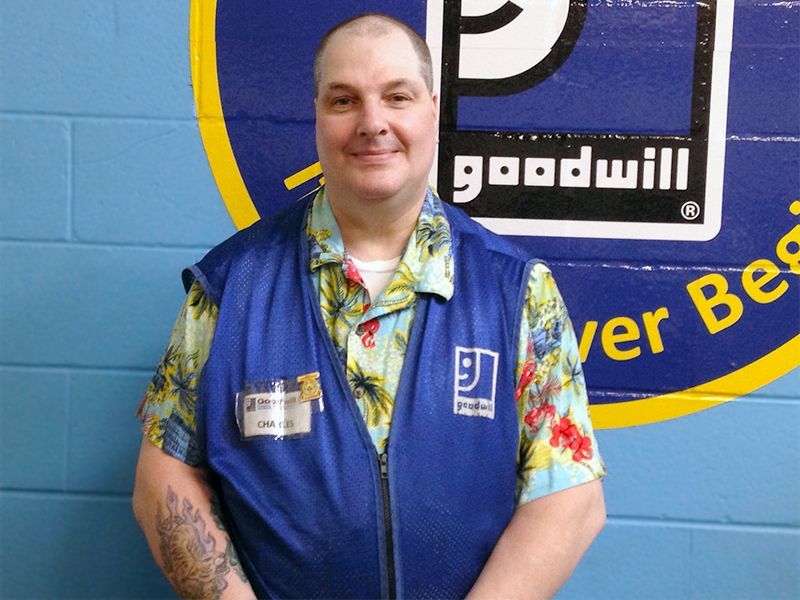 Meet Charles Rockwood, a 17 year employee of Goodwill Industries of the Berkshires and Southern Vermont!  After the shutdown for the pandemic, Charles, like several of his co-workers, were thrilled to be able to come back to work.  He works in logistics performing a variety of tasks including keeping the Thrifty Rags business fully stocked, and hanging and sorting clothes.  In the past he has also run the baler preparing goods for Aftermarket. 
Charles speaks fondly of the company barbeques enjoyed by many others.  He has helped cook the hamburgers and hotdogs when social distancing wasn't in place.  He looks forward to having this tradition revived in the near future.  In addition to these "Goodwill family gatherings" he likes to be helpful to others, training them in the rag cutting process.
Before Charles came to Goodwill, he served as a janitor for the Old Country Buffet.  Since coming to Goodwill, he has discovered that he can do more varied jobs and really likes the comradery of his co-workers.  He is grateful to Kathy Anker, the Director of Mission Services who helps keep him on task.
Charles received certificates in training programs including soft skills, CPR/First Aid and regularly attends the Safety Huddle meetings.  He proudly displays his certificates on the wall in his room.
Aside from work, Charles has an affinity for watching wrestling matches (sharing them at lunch with a Goodwill co-worker) and vacations including going to Jamaica, Cancun and Discovery Island.  While at home, he likes to relax using the meditation techniques that he learned at Goodwill to help keep himself calm.  His goal is "to improve (sic) himself at home" so he can earn "quiet time" or the time to be at home when everyone else is out.
In addition to liking to work, Charles enjoys cooking.  His specialty is chocolate brownies.  He often shares these treats for the barbeque events at Goodwill. His goal for the future- when the virus allows, is to train at the Goodwill Popcorn Wagon.  He also looks forward to spending some time with his sister on the Cape.