Jacqueline's Story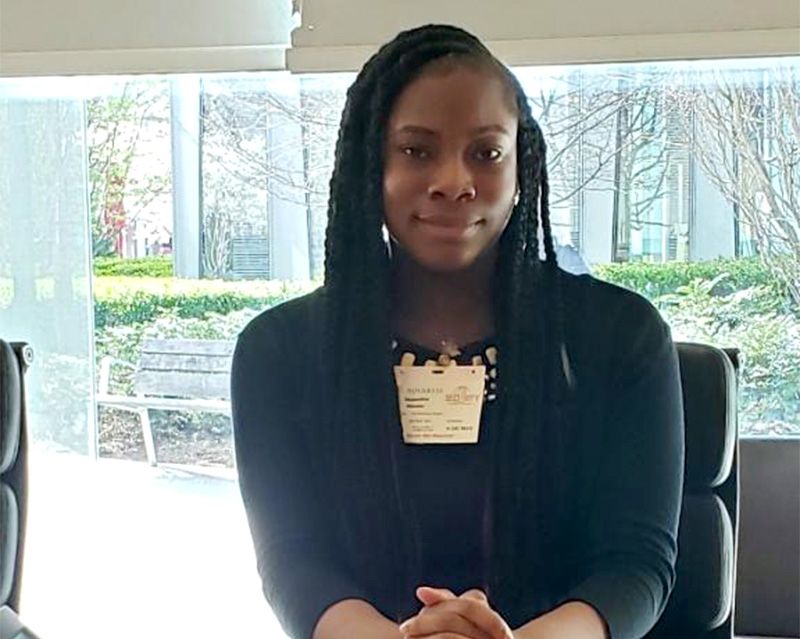 Meet Jacqueline. She came to us as a high school student enrolled in the local WIOA youth program. She had just moved to Pittsfield from New Jersey and was feeling sad and missing her friends. She wasn't sure about how she would adjust to this big move in her senior year but through her work her as an office assistant, she developed confidence and pride. 
She took her responsibilities seriously and performed well in the workplace. With the help of Goodwill, she was able to enroll in a Community College course, develop public speaking skills and learned what it meant to be a part of a team. She was a speaker at the Annual Board meeting, dressed for the occasion by the Suit Your Self Program and captured the attention of the audience members through her story and her poise.
Since her virtual graduation in June, she has been accepted into the college of her choice after being accepted by 17 other colleges. She has signed up for the Air Force Reserves and received grants and a scholarship to help pay for her education. Her life dream is to become an orthopedic surgeon.
In her own words, she recounts her experiences at Goodwill Industries of the Berkshires and So. Vermont.
My Goodwill Experience Working at Goodwill has been a great experience. It was more than I expected and so rewarding. Before working at Goodwill, I had just moved with my family from New Jersey to Massachusetts. I was very upset that my parents decided to move to another state when I was just about to start my senior year of high school. I thought the move was going to be more detrimental than beneficial.
It had been less than a month that I moved to Pittsfield and found Goodwill. My mom found a Youth Employment Program for me. This is when MassHire sent me to work at Goodwill Industries. When I went there my first day everyone was so nice, respectful, and professional. My first week at Goodwill, I was in the Employability Workshop. It taught me about my attitude, time management, communication/dependability, conflict resolution. These skills I will be able to apply to any job I get in the future and any professional setting Goodwill taught me to be open-minded and willing to adapt to change. All my life I had known New Jersey, my home. Moving to another place I assumed it was going to be bad and I would be alone. The people were so nice and they made me feel appreciated. When I first met some of the leadership team they asked me all the same thing. "What do you want to be when you grow up?" I told them all a surgeon. By just telling them that, they started to help me on my path to my career. One day my boss told me "he saw greatness in me" and that meant a lot. 
One of my mentors has been one of the most life changing persons I have met in my life. I met her when she asked me to make an Accident Analysis Form. This was one day I had just finished doing intakes and had nothing to do. She was impressed at how well I completed the task. She opened the door for many opportunities that I didn't know I had. She told me about college classes I could take during high school to get a head start on my biology degree. This reminded me that a simple act of kindness can go a long way. I never thought I would meet someone so willing to help me like my mentor. She has been so dedicated into getting me into a good college. This has taught me in life that networking and professionalism is very important. You never know who you'll meet in life so always remember to be kind. 
The people at Goodwill have helped me so much. They have taught me many life lessons, how to make board binders, and the many aspects that go into running a nonprofit organization. I love working at Goodwill, it is the best job I have ever had in my life. The people make you feel appreciated and welcome.