Jimmy's Story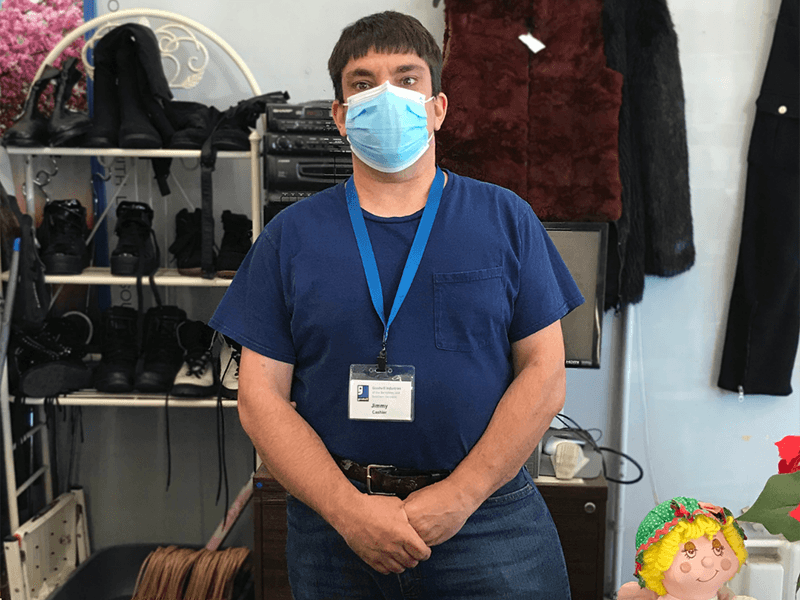 A second focus on Jimmie Brazie from our Dalton Ave. Store in Pittsfield

Nominated by his Manager who tells us "I would like to nominate Jimmy Brazie for Faces of Goodwill because he is always eager to learn new tasks and has recently started to help out on the register. He has shown a lot of growth in the past few years. He is excited to be at work each day and always has a smile on his face."

Jimmie tells us that he likes "greeting and meeting people, interacting with them and helping them out."  One of the things he likes most about working at Goodwill, is that he can get training for new skills including running the cash register.  He started in electronics and has now worked in every department.

Jimmy is a ray of sunshine! When customers walk into the store, they are welcomed by Jimmy's smiling face and his greeting, "What can I help you with today?" 

You'll always find Jimmy making recommendations to customers about the latest and greatest merchandise for sale. He has a natural gift for customer service and he'll gladly talk to anyone about his two favorite sports teams: the Boston Red Sox and the New England Patriots. 

Fellow employees know they can depend on Jimmy to lend a hand, offer moral support, and be a mentor. Ever the gentleman, he's the first to offer help to female coworkers when taking trash to the dumpsters. 

Jimmy likes working at Goodwill because it provides him with a sense of independence. In recent years, the couple he lives with have taught him the importance of saving the money he makes. Because of this he's been able to purchase a new bedroom set, attend a Red Sox game, and take a weeklong vacation to Maine where he went on a whale watch and ate lobster. Jimmy has come a long way since suffering a stroke a few years ago and is doing well. Working at Goodwill has helped him regain the skills necessary to maintain independent employment. 

While we're proud to have watched Jimmy develop his skill sets, abilities, and confidence at Goodwill over the past five years, we are also incredibly grateful for all that he contributes to our Goodwill team on a daily basis. Our Pittsfield store wouldn't be the same without him.