Josh's Story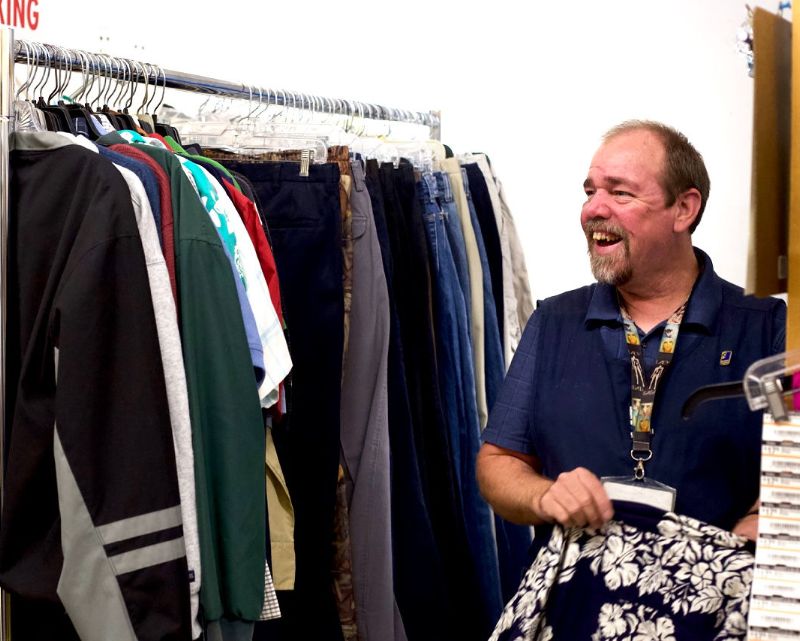 Josh has been a valued member of the Goodwill team for more than 20 years. For the past several years he has worked as a processor in our Pittsfield store. He enjoys processing and hanging clothes, stocking hats and gloves on the sales floor, and doing other required tasks. He's always willing to lend a helping hand to anyone in need. Each day, at the end of his shift, he checks in with the store manager to see if there's anything else he can do before clocking out.
If his bus transportation is canceled for the day, Josh still finds a way to get to work because, as he says, "They can't do it without me". And he's absolutely right, considering that he can process a full day's worth of merchandise in just five hours! He's a hard worker who still finds time to joke around and have fun with his co-workers. His laughter is contagious and he has the ability to make everyone around him smile and laugh. Josh is great at remembering what needs to be accomplished in the store each day and, if he sees that something hasn't been done yet, he's not afraid to say so in his nonchalant and friendly manner. Co-workers and managers alike smile and say, "Yes, boss," and promptly get it done.
When asked what he likes about working for Goodwill, Josh fondly remembers his prior years working in the warehouse, where he operated the baling machines for textiles and cardboard. He enjoys returning to the warehouse from time to time when participating in training sessions, such as Goodwill's Employability Workshop, which he completed in 2019. He credits this training with learning how to better listen to others and how to talk to people in the workplace. He also practiced using his "inside voice", because his decibel level can get progressively higher as his excitement about something grows.
In 2019, Josh began working each month at the Popcorn Wagon with our Mission Services team during Pittsfield's Third Thursday street fair. He learned how to make and bag popcorn, assist customers, and how to shut down the wagon at closing. Store employees say that Josh talked about this experience for weeks, saying he felt a greater sense of purpose after having been given the opportunity to work at the Popcorn Wagon.
Josh continues to be a valued member of our Pittsfield Goodwill team, and said he loves working with the other employees every day, especially his friend Tasha, who works closely with him. Each day, before he starts his job hanging clothes, he helps the store manager prepare for incoming trucks and performs computer related activities.
Josh takes pride in his job and never wants to miss a day of work. In fact, while being driven home after a recent surgery, he actually asked to be dropped off at work! He proceeded to beg to go to work each day until he was eventually permitted to do so by his doctor. It's not just Josh who misses being at work when he can't be here. His absence is felt by the team, because his presence lifts everyone's morale and mood. Simply put, he makes Goodwill a happier place to work and he's truly missed when he's not here. Josh is truly the epitome of a dream employee and we are so glad he works for Goodwill!