Mary's Story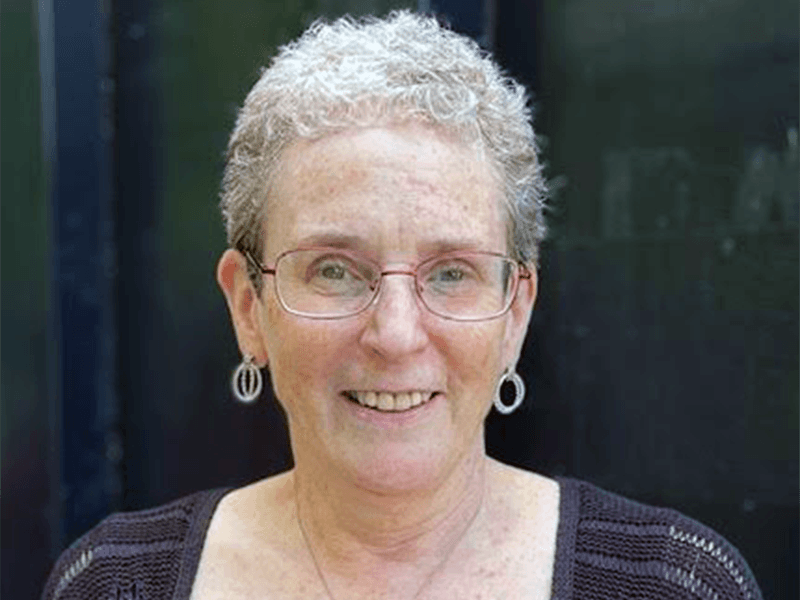 Meet Mary Killeen, Director of Finance
Mary Killeen is a Pittsfield native and resident who joined Goodwill Industries of the Berkshires and Southern Vermont in 2020 as senior accountant. She was promoted to director of finance in 2022. 
With many years of accounting experience, Mary brings expertise in accounting principles and best practices to Goodwill's administrative team. She oversees all the day-to-day financial aspects of Goodwill's operations, as well as short- and long-term planning for the organization. 
Mary has two much-adored cats, Jack and Henry, who love to join Mary for Goodwill's board meetings on Zoom. 
Locals may remember The Book Shelf, a popular second-hand bookstore on Elm Street in Pittsfield, which Mary owned and operated for 20 years until closing it in 2014. 
We recently sat down with Mary to learn more about her childhood, her career, and her life philosophy.
Goodwill: You grew up in Pittsfield. What was your family life like?
Mary: Looking back, I had the 1960s version of a wonderful family life. We lived in a great neighborhood in southeast Pittsfield and I was lucky enough to have a family, including grandparents, who always treated me with love and support.
I'm the youngest of four kids with Irish Catholic parents. My dad's parents came here from Ireland. My eldest brother is 12 years older than me and every teacher I had in school had taught at least one of my siblings before me. A few of them were straight-A students which was a tough act to follow.
I say it was a very strict upbringing but my siblings say I got off easy. My mom was an RN who worked in the hospital operating room and my dad was the chief of police in Pittsfield, so you can imagine what that was like. I was never allowed to go to a football game because something could have happened and the chief's kid could not be involved.
Goodwill: Where did you go to school?
Mary: I went to Pittsfield High School and graduated from Stonehill College with a B.S. in business administration.
Goodwill: What or who have been your strongest influences in life?
Mary: My parents instilled values in me that I still follow today. I learned to work hard, show up on time, and to always try and be a good person. My father was a perfectionist. I still have a tendency to expect a lot of myself. I've been very lucky to have known and worked with a lot of great people in my life.
Goodwill: What are you most proud of accomplishing?
Mary: Being there for my parents in their later years. I'm most proud of taking care of my mom in her last years in her home, our family home, and where I live today.
Goodwill: Who or what motivates you personally?
Mary: The way I was raised and the way that I view my job. I began working as a babysitter at age 10. My neighbors actually left their infants with me, a terrifying thought now!
Goodwill: What have been your biggest obstacles in life?
Mary: I was a very shy child and it took me a long time to learn to speak up for myself. My college roommate was a huge influence on me. She got me out of my introverted shell. I began to find my voice.
Goodwill: How have your diverse life experiences helped you deal with specific work situations?
Mary: I landed a great job right out of college at WCVB-TV in Boston and then took a job in the television production branch at Metromedia Producers, also in Boston. The people I worked with in the television industry cared desperately about doing a good job and I was proud to work alongside them.
I later moved to California as a business manager in their TV syndication sales division and met a much more diverse group of employees, who took in the girl from Massachusetts and made her feel a part of the team. I then took a job as northeast regional business manager in the paging and cellular division in order to move back to Massachusetts. I've been very fortunate to have worked with people who were 100-percent supportive and have allowed me to be me. 
While I was working in paging, I was also working on weekends as an IndyCar Series timing and scoring official. I spent eight years traveling all over the USA and Canada, and took three trips to Australia as part of the traveling team. The responsibility of that job and the people I met was a life experience I will always treasure.
Goodwill: What is your vision for the future of Goodwill?
Mary: That we'll continue to grow in our mission and in the number of people we can support in our communities. There are a lot of people at Goodwill who truly care about the work we do. Working with such passionate people makes the sometimes long days at work very worthwhile.
I came into this job with some knowledge about Goodwill, but it's been incredible to learn what happens to a donation after it comes in the door and how it gives back in countless ways to people in our community.