Ryan's Story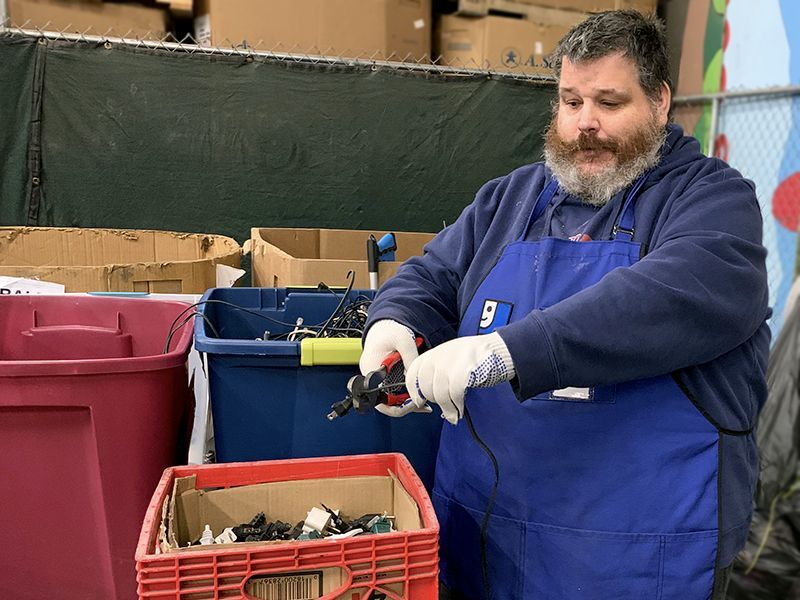 Meet Ryan Boesse, a hard-working member of the Mission Services Team who has been with Goodwill just over 1 year.  Ryan had other jobs before he came to Goodwill but he is now very happy to be a part of the team here.  His supervisor reports that he has made great strides during his time here.
Ryan has learned many skills and performed a variety of jobs including: custodial, sorting shoes, cutting electrical wires for reuse, hanging, media sorting and operating the pallet jack.  He is very proud to have earned his certification for the pallet jack.  He shared his accomplishment with all of his team members, his family and friends.  They were all very proud of him.
He is thankful to Derrick who trained him to use the pallet jack and grateful to his supervisors for all of their assistance and support. Ryan likes his team mates because they have an amazing sense of comradery.  He is proud that he recently helped a new team member learn her job.
A few special moments that Ryan fondly remembers are the celebration by the Lee store staff who recognized his team for all of their hard work that they perform to produce store ready products.  He appreciated the celebration and recognition.  Another event that makes Ryan smile was the November Sweet Treat day which brought Goodwill employees together to share in a brief festive event.
When he is not working Ryan enjoys hanging out with his friends playing board games such a Monopoly.  He also likes watching hockey, baseball and football with his family.  As an animal rights advocate, Ryan loves his dog JJ and his cat Sylvester.  He cuddles with Sylvester and tosses balls for JJ.