In 2013, Goodwill Industries of the Berkshires and Southern Vermont, Inc. was given a unique opportunity to incorporate an actual small business as part of a hands-on training program. Berkshire Bank Foundation offered the use of the bank's antique popcorn wagon for this project.
The Popcorn Wagon is a historic fixture in the Pittsfield landscape. Built in 1906, the antique wagon was brought from South Dakota to Pittsfield in 1909 by local resident, Daniel "Stuffy" McGinnis. For 10 years, Stuffy operated it on North Street before moving the wagon to Park Square, next to the Berkshire County Savings Bank. Stuffy passed away in 1941, leaving the popcorn wagon to his son, Harry, who continued to run the enterprise for 16 years. In 1956, Harry sold the wagon, known as the "Park Square Wagon," to Pittsfield Police Officer Earl Borden who later gave it to his daughter, Margaret ("Maggie"). She became the official owner of the business in 1970. During their ownership, the Borden's converted the wagon's steam-powered popcorn popper to an electric one.
---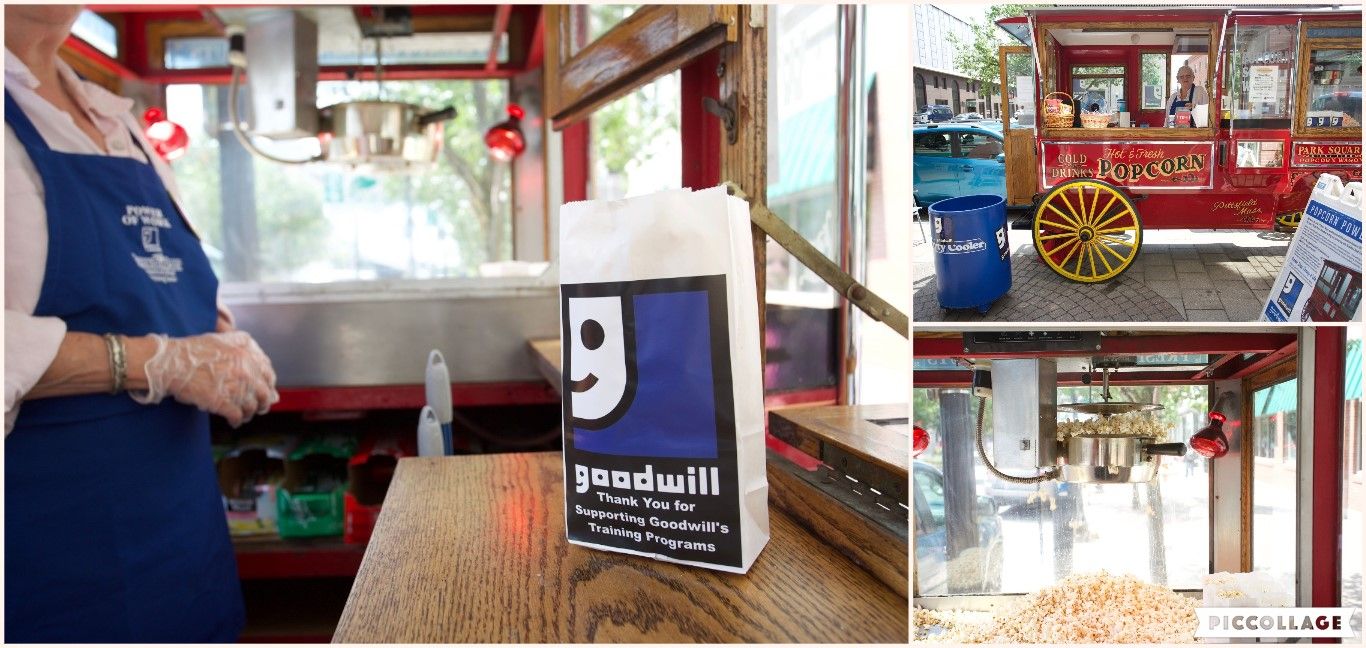 ---
In 1973, Berkshire County Savings Bank secured an arrangement with Maggie to rename the bank the "Pop Corner Bank." For more than 30 years the bank used illustrations of the wagon and the wagon logo for advertising and promotional and sales merchandise. In 2003, Maggie sold the wagon to Berkshire Bank, which has generously donated it for fundraising purposes, as well as for operation by local social service agencies such as Goodwill.
In 2018, The Popcorn Wagon became a key part of Goodwill's spring and summer Retail Training Program. The Popcorn Wagon is currently located at 99 North Street in Pittsfield.  Proudly operated by Goodwill, the Popcorn Wagon will be closed this season while we practice social distancing. 
As disappointed as we are, we need to keep everyone safe. Our Retail program that supports and operates the Popcorn Wagon will not be on North Street in Pittsfield this summer.  Thank you to the Berkshire Bank Foundation which supports this program by providing grants and the Historic Popcorn Wagon. We will keep you posted on the activities for summer 2021