Goodwill builds pathways to help individuals pursue their goals through employment, career development, and community support programs. Our training and self-development process focuses on a person centered philosophy.
At the heart of Goodwill's mission are our supported employees, those with intellectual and/or developmental disabilities, who are hired through the Department of Developmental Services. Goodwill Industries of the Berkshires and Southern Vermont is dedicated to employing, training, educating, and coaching these vital members of our community. This initiative is overseen by our dedicated mission services team, based out of our headquarters in Pittsfield, Massachusetts. Prospective employees who have intellectual and/or cognitive challenges interview and undergo the same scrutiny as all other employees, and are hired competitively. They work in our retail stores and processing facility in Pittsfield, and are placed within the organization based on their interests, skills, and job openings. We make reasonable accommodations when needed to maintain a safe, comfortable, productive, and successful work environment.
In addition, Goodwill hires community members with other barriers to employment, such as age, criminal record, domestic violence, recovery from alcohol or drug dependence, and more. Each individual brings diversity and joy to our workforce while working in a supportive environment. Goodwill Industries of the Berkshires and Southern Vermont is an equal opportunity employer and all employees enjoy the same benefits and pay scales.
As employees evolve, so does Goodwill and the community at large. In keeping with a person centered philosophy, employees are encouraged to voice their ideas for the betterment of themselves, their teams, the organization, and/or our community. The following is a list of some of the empowering services offered to our employees:
Orientation
Safety Training
Soft Skills Training
Human Rights Training
CPR and First Aid Training
On-the-Job Skills Training
Staff Support for Professional and Personal Goal Attainment
---
Jimmy's Story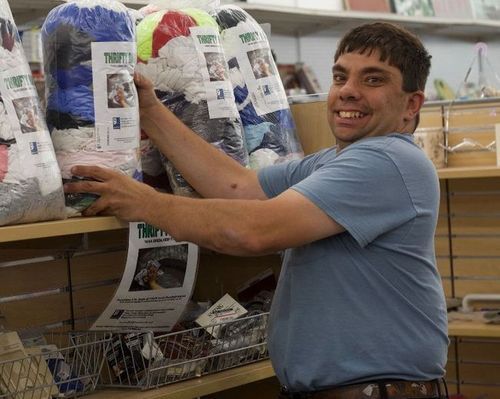 Jimmy is a ray of sunshine at our Pittsfield Goodwill store. When customers walk into the store, they are welcomed by Jimmy's smiling face and his greeting, "What can I help you with today?" Jimmy works in several different areas of the store. One day he's helping bring donations into the back room; another day he's sorting donated items and preparing them for the sales floor. He also puts merchandise on the store shelves, organizing the goods in ways that make shopping easier. You'll always find Jimmy making recommendations to customers about the latest and greatest merchandise for sale. He has a natural gift for customer service and he'll gladly talk to anyone about his two favorite sports teams: the Boston Red Sox and the New England Patriots. 
Fellow employees know they can depend on Jimmy to lend a hand, offer moral support, and be a mentor. Ever the gentleman, he's the first to offer help to female co-workers when taking trash to the dumpsters. He's very aware of other people's needs and wishes and does his best to accommodates them. As an example, he offered to switch his lunch time so that two co-workers who enjoy spending time together were able to have the same lunch break. Read more for Jimmy's full story.