Our mission is to help community members with barriers to employment attain independence and self-sufficiency, gain confidence, and enhance their quality of life, through vocational education, work training, and other support services. 
At the heart of Goodwill's mission are our supported employees, those with intellectual and/or developmental disabilities, who are hired through the Department of Developmental Services. Goodwill Industries of the Berkshires and Southern Vermont is dedicated to employing, training, educating, and coaching these vital members of our community. This initiative is overseen by our dedicated mission services team, based out of our headquarters in Pittsfield, Massachusetts. Prospective employees who have intellectual and/or cognitive challenges interview and undergo the same scrutiny as all other employees, and are hired competitively. They work in our retail stores and processing facility in Pittsfield, and are placed within the organization based on their interests, skills, and job openings. We make reasonable accommodations when needed to maintain a safe, comfortable, productive, and successful work environment.
In addition, Goodwill hires community members with other barriers to employment, such as age, criminal record, domestic violence, recovery from alcohol or drug dependence, and more. Each individual brings diversity and joy to our workforce while working in a supportive environment. Goodwill Industries of the Berkshires and Southern Vermont is an equal opportunity employer and all employees enjoy the same benefits and pay scales.
As employees evolve, so does Goodwill and the community at large. Employees are encouraged to voice their ideas for the betterment of themselves, their teams, the organization, and/or our community. The following is a list of some of the empowering services offered to our employees:
Orientation
Safety Training
Soft Skills Training
Human Rights Training
CPR and First Aid Training
On-the-Job Skills Training
Staff Support for Professional and Personal Goal Attainment
---
Kathy's Story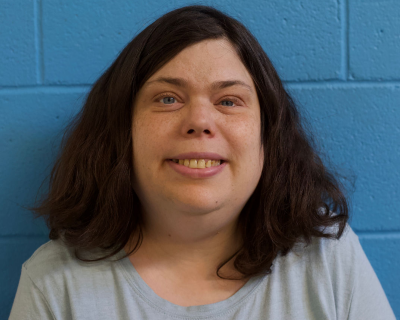 Kathy began her journey at Goodwill when she entered our retail training program in November 2018. Kathy credits the class with teaching her the fundamentals of customer service and sales skills and how important it is to be knowledgeable about the products that are being sold.
In March 2019, Kathy interviewed for a processor position in our warehouse and was hired. She works two days a week sorting clothing, books, shoes, and other tasks needed in order to prepare donations for sale in the stores. "Working at Goodwill gives me the opportunity to meet new people, learn more about myself, enhance my skills, and to earn a paycheck that allows me to be more independent," she said. Read more for Kathy's full story.