David Twiggs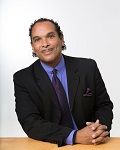 David Twiggs was named president and CEO of Goodwill of the Berkshires and Southern Vermont, Inc. on January 1, 2017.
He joined the organization in 2012 and had most recently served as chief operating officer. David has held other senior management roles at Goodwill, including director of logistics. 
Before joining Goodwill, David served as director of operations at Macy's. Prior to that he served on Target's executive retail team and as district manager for Perry Ellis stores. In addition to his career in the retail industry, David worked with youth in special education programs for more than a decade.
He also volunteers his time and talents to the community. David is currently serving on the Mass Alliance of Commissions on Disability, the Pittsfield Commission on Disabilities (including as community access monitor), an ombudsman for the executive office of Elder Services of Berkshire County, Inc., and as a volunteer at the Berkshire Immigrant Center.