Hector's Story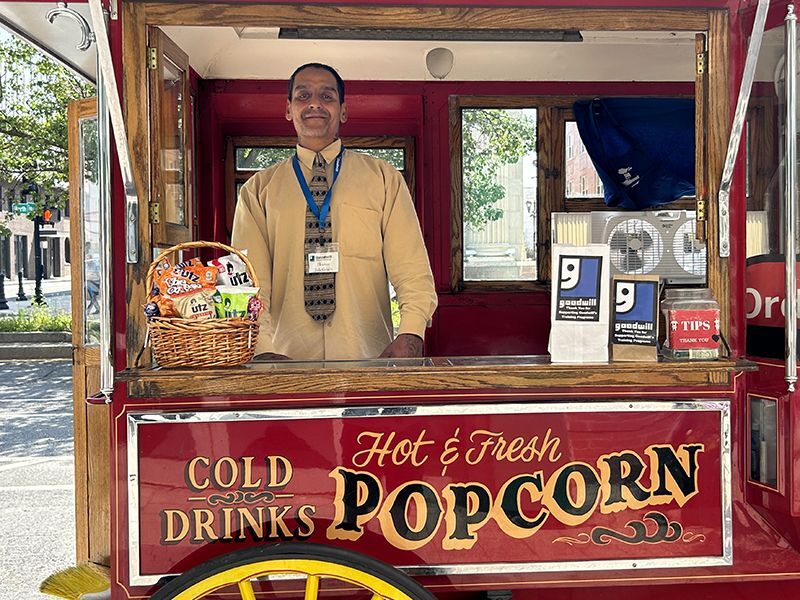 Meet Hector Fuentes
Hector first came to Goodwill as a volunteer in 2010. He worked in our warehouse on Tyler Street, testing electrical equipment and accepting donations. "I had just moved to Pittsfield from Springfield, so I was a little nervous because it was the first job I'd had in my life," he said.
"I was good at it and when Goodwill decided to hire me, I was very proud to earn a paycheck. I learned a lot about people on the job, including how to deal with a few angry donors."
"I helped with Goodwill's furniture tag sales and worked in customer service at our Dalton Avenue store. One customer told me that I was really good at customer service when she saw how well I handled a difficult customer."
"I enrolled in the Cleaning Management Institute's custodial services training program. After passing the exam, and receiving a certificate, I taught other participants. One is still working at Goodwill as a custodian. He told me that I taught him everything he knows," Hector added with a smile.
During this time, Hector met Suzanne Engels, a valued Goodwill volunteer, who taught him computer skills and helped him prepare for the difficult GED tests. He didn't pass but did learn a lot of new concepts. "I also took the soft skills and customer services training programs at Goodwill, where I earned both certificates, and took a budgeting class offered by a local bank. I really appreciate all that I've learned from Goodwill's mission services team," he said.
"I was introduced to Pittsfield's former mayor, Daniel Bianchi, who asked me to join Pittsfield Community Connection, a program designed by Adams Hinds, where I worked with at-risk teens 
for a year. I felt that I was ready for a more challenging position and was then hired by the Becket-Chimney Corners YMCA as its lead custodian and maintenance associate. I worked there for several years until I was laid off due to budget cuts."
"I reconnected earlier this year with Kathy Anker, Goodwill's vice president of mission services, who said she was looking for a job coach. I was rehired by Goodwill for this position, that includes managing the historic Popcorn Wagon on North Street in Pittsfield and teaching customer service skills to Goodwill's supported employees."
"Goodwill is the place that did it all for me," Hector said. "The people at Goodwill believed in me, taught me important skills, and gave me the tools I needed to succeed. Now I believe in myself too."